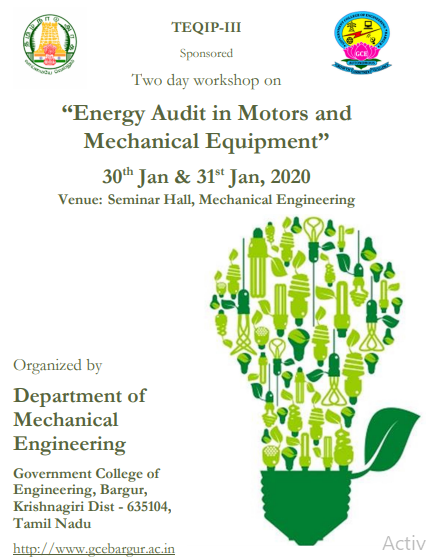 Date: 30th Jan & 31st Jan, 2020
Venue: Seminar Hall, Mechanical Engineering
What is Energy Audit? 
An energy audit is an inspection survey and an analysis of energy flows for energy conservation in an industry or a building. It may include a process or system to reduce the amount of energy input into the system without negatively affecting the output. Potential energy-efficiency improvements:
Tariff optimization and billing analysis

Power factor correction

Motor management plan

Rewinding and use of energy-efficient motors

Using Adjustable speed drives (ASDs)

Pumps and pumping systems

Refrigeration and air conditioning systems

Compressed air systems

Fans and blowers

Lighting
Objectives of Energy Audit
The Energy Audit provides the vital information base for overall energy conservation program covering essentially energy utilization analysis and evaluation of energy conservation measures. It aims at:
Identifying the quality and cost of various energy inputs.

Assessing present pattern of energy consumption in different cost centers of operations.

Relating energy inputs and production output.

Identifying potential areas of thermal and electrical energy economy.

Highlighting wastage's in major areas.

Fixing of energy saving potential targets for individual cost centers.

Implementation of measures for energy conservation & realization of savings. 
​Typical Scope of work for detailed Energy Audit
Review of Electricity Bills, Contract Demand and Power Factor

Study of Electrical System Network, Motors and Pumps Loading

Study of Air conditioning plant w.r.t measurement of Specific Energy consumption

Performance Evaluation of Boilers, Burners / Furnace, Condenser and Air Compressor

Performance shall be evaluated as regards, their input power vis-a-vis TR capacity and performance will be compared to improve to the best in the category

Study of the illumination system, LUX level in various areas, area lighting etc. and suggest measures for improvements and energy conservation opportunity wherever feasible.

Study the operations of DG sets to evaluate their average cost of Power Generation, Specific Energy Generation and subsequently identify areas wherein energy savings could be achieved after analysing the operational practices etc. of the DG sets

.  
This Training Enables Learners To…
Understand the terms, terminology, and benefits of Energy audit and conservation.

Conduct an energy audit, make an energy balance and identify potential for energy conservation.

Understand the typical energy losses of mechanical equipment in your facilities, including motors, chillers, cooling towers, fans and blowers, pumps and air compressors

How to account the energy efficiency of different mechanical equipment

Strategies and tips to improve the energy efficiency of motors and mechanical equipment

  
Who should attend?
Faculty and students of engineering colleges

Professionals from any discipline

Facility/maintenance managers or engineers

Industry personnel who wish to learn more on mechanical system
​Organizing Committee
Patron: Dr. T.Alwarsamy, Principal
Convener: Dr. P.Thirumal, Associate Professor / Mech 
Coordinator: Mr. S.Tamil Prabakaran, AP/Mech 
Co-Coordinator: Mr. S.Sathish Kumar, AP/Mech
Resource Person
The faculty for this course is Dr. J Nagesh Kumar. He is a certified and accrdidated energy auditor of Bureau of Energy Efficiency, Govt. of India. As a Head of Energy Management Division with National Productivity Council, Govt. of India for three decades he held the post of Director. He is now the founder-Director of Centre for Energy, Environment and Productivity (CEEP), Chennai. He is basically a mechanical engineer with a doctorate degree in Gas turbines. He has carried out several energy audit studies in the leading industries resulting in quantum reduction of energy use. His services have been extensively used for Energy Efficiency in several countries such as Vietnam, Bangladesh, Sri Lanka, Nepal and Iran.
Contact Persons 
Mr. S.Tamil Prabakaran 
Assistant Professor / Mechanical Engineering 
Govt. College of Engineeeing, Bargur.
Cell:7708668959
Email:tamilprabakarans@gmail.com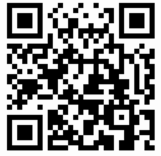 Read the QR Code for Instant Online Registration (Limited to 25 candidates - Due Date 28.01.2020)-->
(OR)